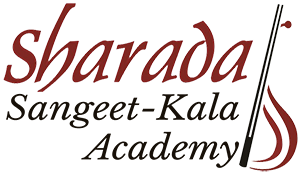 'Sharada Sangeet- Kala Academy' is a unique institution where one gets the exquisite knowledge of Indian classical music. The subtle notes, acute and exact rhythm, rhyme, tone, if a pupil wants to learn all these things, the finest elements of classical music, Sharada Sangeet evam Kala Academy is the right place for it. The Academy is devoted to give every support, guidance, opportunity and direction to the students to develop their creative skills. The courses available are:
– VOCAL MUSIC (SINGING) ,HARMONIUM KATHAK DANCE DHOLAK , KANGO & TABLA
FROM RAJA MANSINGH TOMAR UNIVERSITY- VOCAL MUSIC, KATHAK DANCE. TABLA
PRAVESHIKA IN PERFORMING ARTS (PCPA)
MADHYAMA IN PERFORMING ARTS (MDPA)
VID DIPLOMA IN PERFORMING ARTS (VDPA)
KALA RATNA DIPLOMA IN PERFORMING ARTS (KRDPA)
FROM – AKHIL BHARATIYA GANDHARVA MAHAVIDYALAYA MANDAL- VOCAL MUSIC, HARMONIUM .KATHAK DANCE. TABLA)
FROM PRARAMBHIK TO VISHARAD, (GRADUATE LEVEL)
POST GRADUATE DIPLOMA- ALANKAR.
SPECIAL BATCHES FOR LIGHT MUSIC.
All courses are available online also