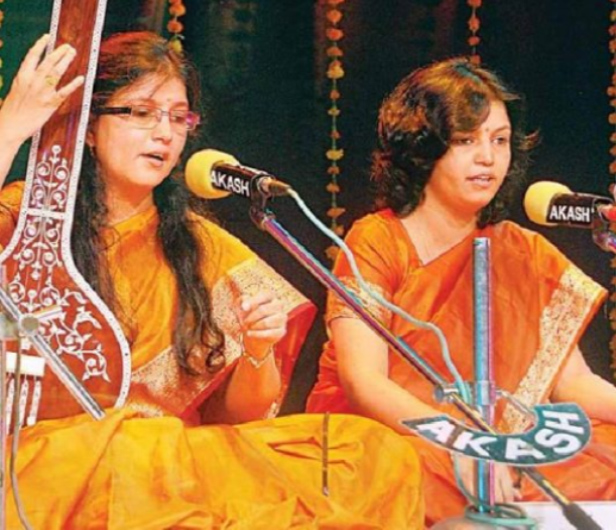 Dr. Abha & Dr. Vibha
Jugalbandi
The singers of Gwalior Gharana are one of a few female vocalists in Northern Indian Classical Music who sing Jugalbandi (Duet) A jugalbandi is a performance in Indian classical music that featured a duet of two solo musicians. The word jugalbandi means, literally, "entwined twins." The duet can be either vocal or instrumental. Jugalbandi singing is a subtle art that demands alertness and spontaneity. Singers are complimentary to each other and so is their singing and their phases. It leads to a unique presentation.
Dr. Abha
Indian Council for Cultural Relations Certificate(ICCR)
Awarded ' Shastriya Kala Ratna' Samman by Nikunja Seva Sansthan, Vrindavan.
Awarded 'Kala Nidhi Samman' by Rashtriya Sangeetagya Parivar and Ganesh Mandir committee , Jhansi.
Awarded Pride of Madhya Pradesh from Award Council of India, Lucknow.
Received prize in Lata Mangeshkar Competition, Indore in 1989 & 1994.
Fetched 2nd Position in Merit List of D.A.V.V. in Post Graduation.
Participated in Youth Festival Representing D.A.V.V., Indore in 1992.
Awarded Gold Medal from Chaurasia Samaj for securing Second Position in Univeristy in Post Graduation.
Received prize in Swaranjali State Level Competition, Ujjain 1989. Received prizes in School & College Music competitions. President of Govt. Music College, Indore.
Sang for many commercial recordings.
Presented research paper "Teaching Techniques : Development and Deterioration" in the deliberations held at the International Symposium on Areas of Innovation in Teaching and Practice of Indian Classical Music organized by Omenad and Madhukali at Bharat Bhawan, Bhopal, India on Dec.22 & 23, 2007.
Published Articles in research journal and magazines.
Presently running a Music Academy (Sarada Sangeet Akademi) with special emphasis on classical music along with semi classical & light music.
Recording of Jugalbandi with sister Vibha was broadcasted in World space Radio and Surtarang Radio of Wolverhampton ( U.K.). Book "Role and Importance of Khayal in Establishment of Raga" published from Germany.
Dr. Vibha
Indian Council for Cultural Relations Certificate (ICCR)
Awarded ' Shastriya Kala Ratna' Samman by Nikunja Seva Sansthan, Vrindavan.
Awarded 'Kala Nidhi Samman' by Rashtriya Sangeetagya Parivar and Ganesh Mandir committee , Jhansi.
Awarded Pride of Madhya Pradesh from Award Council of India, Lucknow.
Awarded gold medal for securing first position in merit list of Devi Ahilya University, Indore in post graduation.
Received prize from renowned musician Sushri Suman Dandekarji for securing first position in Devi Ahilya University in post graduation.
Awarded gold medal from Chaurasia Samaj in 1992.
Received prizes in school & college music competitions.
Secured first position in inter university mock parliament competition organized by Vidhan Sabha Sachivalaya, M.P.
Remained president of govt. girls post graduate college, Indore during 1991-1992.
Sang for Commercial recordings.
Presented research paper "Teaching Techniques : Development and Deterioration" in the deliberations held at the International Symposium on Areas of Innovation in Teaching and Practice of Indian Classical Music organized by Omenad and Madhukali at Bharat Bhawan, Bhopal, India on Dec.22 & 23, 2007.
Published articles in research journal and magazines.
Presently running a music Institute Sarada sangeet Academy with special emphasis on classical music along with semi-classical & light music.
Recording of Jugalbandi with sister Abha was broadcasted in World Space Radio and Surtarang Radio of Wolverhampton (U.K)