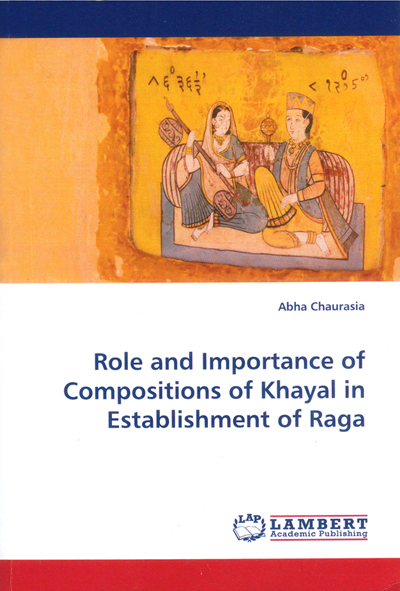 Academic Work
Presently running a music Institute Sarada Sangeet Academy with special emphasis on classical music along with semi-classical & light music.
Published research articles in research journal "SAMAKALIKA SANGEETHAM" the Journal dedicated to Indian Classical Music and financially assisted by SANGEET NATAK AKADEMI, New Delhi.
Published Articles in different magazines.
International Work
Presented research paper "Teaching Techniques : Development and Deterioration" in the deliberations held at the International Symposium on Areas of Innovation in Teaching and Practice of Indian Classical Music organized by Omenad and Madhukali at Bharat Bhawan, Bhopal, India on Dec. 22 & 23, 2007.
Published research article in book 'Dev Shruti' published by Kafla Inter-Continental, Chandigarh.
Role and Importance of Khayal in Establishment of Raga
Publisher: Lap Lambert Academic Publishing GmbH & Co. KG, Germany
Indian music is very charming and subtle in character. A raga is its distinct and unique feature. In the establishment of raga, compositions play a vital and dynamic role. How the mood, musical phrases and the character of compositions lead to the expansion of a raga? How these compositions have been composed? Why there are so many compositions in one raga? How khayal singing has originated and developed? What are the traits of a good composition and a good composer? How the compositions help in the unfoldment of a raga? How a composer entwines the musical phrases, all the subtle aspects of a raga and the feelings related to a raga in a creative manner and why Indian music is unique in itself? This book is an answer to all these questions. It is useful for almost everybody. For an intellectual its theoretical as well as practical aspect would be satiating. For a learner, this book is very helpful to understand 'raga' as it unfolds the various aspects of a raga. Furthermore, if great maestros would read this book they would appreciate the way every composition has been analyzed dexterously. For a common folk this book would help them to enjoy and understand Indian classical music in a better way.
Here are the links to buy the Role and Importance of Khayal in Establishment of Raga
http://www.amazon.com/Role-Importance-Compositions-Khayal-Establishment/dp/3844332057/ref=sr_1_1?ie=UTF8& qid=1309807167&sr=1-1-catcorr
https://www.morebooks.de/store/de/book/role-and-importance-of-compositions-of-khayal-in-establishment-of-raga/isbn/978-3-8443-3205-6
---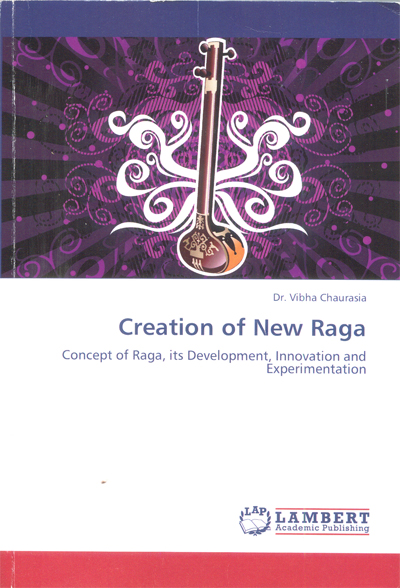 Creation of New Raga
Publisher: Lap Lambert Academic Publishing GmbH & Co. KG, Germany
Raga is a multidimensional, multifaceted and unique concept of Indian music. This research is a very honest attempt to unveil all the hues and colors of a raga. Moreover, this work is a profound study of creativity of the artists and methods of experimentation. It has certain elements, certain combinations which have been the newly created pearls in the ocean of music. In this work almost 600 ragas have been reviewed and new ragas have been analyzed. Thus, it gives the base to create new compositions and to do many other experiments with ragas. This base is a strong concrete base as this book assimilates in itself the creation of almost all the well established maestros of North Indian classical music. This book is melodious, informative and entertaining to people from all walks of life. It can give immense joy to a maestro to know about new ragas, for a common folk it is a simple book by which one can very easily understand the deep concept of Indian ragas, for a learner of music and an intellectual it is a comprehensive, melodious and flowery encyclopedia of modern ragas. One can pick up the flower one likes, can select, arrange, blend and re-organize combinations for one's need.
Here is the link to buy the Creation of New Raga
http://www.amazon.com/Creation-New-Raga-Development-Experimentation/dp/3844384936/ref=sr_1_1?s=books&ie=UTF8&qid=1316583921&sr=1-1